Model date : October 1976
Origin : Italy
Country of purchase : France
Serial number : /
Power :
Closed boiler, manual return lever
Tamper size : 49mm
Translated by Spock
Well this machine is my first lever, this is an event !
I must admit that these La Pavoni really are beautiful.
That's not for no reason if this so old model is still produced nowadays.
I found mine in an auction located near Lyon, and this is by phone call that I made my bid, it was kind of strange especially for 30€ :-))
amount of the transaction including commissionner costs.
Considered the work I did later, I can't even consider what I've finally spent.

Sometimes a second hand at good price is cheaper than a cheap rusted wreck, but without the pleasure of restoring it.
Which is almost essential for me.

I had first published the story of that Pavoni as pictures, so here it is again.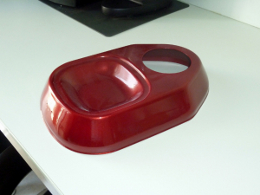 By this time, I only swore by the PID (it's an intelligent temperature regulator), everything went by it and this europiccola is the proof.
I hesitate to put her back at her original state or to get a new one :-)
This Europiccola is, originally, without thermostat and with a dual resistance : one heating a lot and the other less.
Well, I've got to admit that a PID is useful, I can even allow myself to go away for 5minutes... Not more, though.

Yes, those little machines are demanding !